Just how mobile is the Windows 10 experience?
Windows 10  a Mobile experience?
I have been cooped up at home for the last couple of weeks, unable to drive or travel very far after shoulder surgery. This lack of mobility got me thinking about my normal working life and just how mobile I am and how does Windows 10 live up to one of its main aims, to enable the windows experience to be more mobile.
I should add that even though I will be talking about Windows 10 on a phone in this post I am not using the word 'mobile' to equate to smartphone. It is the mobility of the experience that is key here and not working whilst moving, there are key differences.
The question I will try and answer is;
Is there anything I can do at the office on a Windows 10 desktop device, that I cannot do with Windows 10 due to my location or device on which I am trying to work?
I deliberately exclude the availability of internet as important in this question. Internet access is assumed.
So I thought the best way for me to answer this question is by looking at all the activities I engage in, at work, as an IT Pro Technical Evangelist.
So lets start with where I work and what I use to do that work.
The Office (Work Premises)
I have added the parenthesis as I am a home worker and I use my own machine at home as you will see later on.
So Microsoft have provided me with a device to use. I currently have,as my main Domain-joined device, a Surface Pro 3 (i7, 8GB RAM 256GB SSD). Yes I count myself very lucky as it is a super piece of kit. I do covet a Surface Pro 4 or Surface Book and maybe my nice business manager Phil will be kind to me later on this year. If not I will get myself a Surface Pro 4 keyboard as they seem to make the whole experience so much better. Still, I digress.
When I arrive at work in Building 2 floor 2 section H (the hot desk section indicated by the discrete red arrow above) I plug this machine into one of the lovely Dell monitors (U2515) that the aforementioned Phil bought for us which allows me some real space to work with.
From here I am able to print through the location aware printing we use (controlled with Smartcard access at the printer), I can access all the internal file shares which seem to be disappearing in favour of cloud storage such as OneDrive and OneDrive for Business.
I have wired and Wi-Fi access to the corporate network and all resources to which I  am authenticated and authorised to access.
I have access to Cortana and all of my store apps which I am signed into with my Microsoft Account for personal apps and the Business Store Apps when I add an organisational account to the store.
So – that is my aim. The same level of connectivity and functionality or productivity that I have from that desk.
The Home Office
At home due to age and infirmity I use an electrically adjustable standing desk and i have a Dell 1650 Workstation (i7, 16GB RAM 1TB SSD and other local storage from various NAs devices and Local disks) with a four monitor setup. This may sound like overkill but when i bought it and se it up i was a full time trainer and a lot of my work was done from home with online remote training. For this I needed to make sure that I had enough screen real estate and grunt to manage many VM's and applications. Suffice it to say I do not need all this now.
I have an Enterprise version of Windows 10 running the February 1511 update. I sign in with my Microsoft account xxxxx@hotmail.com and I have used Work Access to enrol my PC into device management. Our IT department (MSIT – this is worth looking at we have a huge network) use Microsoft Intune  (part of the Enterprise Mobility Suite) for this.
This is a pre requisite to be allowed to get onto the MSIT Virtual Private Network (VPN). Since my machine is mine and is not domain joined, that is the only way I can access all the resources and applications I want in the style I want. Having done this, I also use my Microsoft employee badge which is a smart card as a source for Multi Factor Authentication (MFA). It gets better, each time I connect to the VPN, I now receive an MFA request on my Lumia 950 smartphone which is either a phone call or an app authentication request.
The reason for this is that Microsoft have made a decision to ensure all external access to the corporate network relies on phone based MFA.
If I want access to certain internal websites or resources without connecting to the VPN I can use my smart card or a fairly new feature a virtual smart card. The Trusted Platform Module on my PC stores a certificate which is enabled by my physical smart card. I still have to enter a complex PIN but I don't have to plug in my card every time.
So I can still print to my work printers as well as my home printers. I have full access to all the work resources and applications I have when in the office. It is my machine but I have policies enforced on it from Microsoft Intune,like a requirement for a work PIN to be created (part of the Microsoft Passport system). The Intune admin could also prevent me from copying any work related data into applications that are not controlled. A feature called conditional access.
I ought to mention that the Microsoft Intune and the Enterprise Mobility Suite are additional options that have additional licensing costs.
If I don't want to spend any extra money I still have the option to use a VPN without the additional device management provided by Intune.
I could use my Surface Pro 3 at home as I have a dock and can use two monitors with that as well. Finally I could use Windows to Go. If you are an enterprise user with a copy of Windows 10 Enterprise then you can use a wizard to create a USB stick based version to carry around with you. This can then be plugged into any device that will run Windows 10 and that can boot from USB. The device owner is reassured that you cannot mess around with his data or hardware and you are safe in the knowledge that this BitLocker protected device is safe secure and you can remain fully functional on the road, at home or anywhere else that there is a device waiting for you.
At Customer Sites or events
Now I can dream that I will get to work in such idyllic locations, but it really doesnt matter where I am or what I want to do. Armed with the Surface Pro 3 or the Windows to Go stick I am pretty much bullet proof as far as devices go.
If,however, I am caught short and only have my phone with me, i have scored there as well. I have a Microsoft Lumia 950 as my issued work smartphone. You might have gathered by now that I am a bit of a gadget geek. This device is pure magic for me. I was lucky enough to given a prototype and a trial version so have used this for the best part of a year now.
As a phone it does what it should as a smartphone it equally holds up to most competition. It is fast, the camera is excellent, it runs Windows 10 so all my Universal Windows Platform apps (UWP) work seamlessly as well. It has more RAM and a faster processor (with six cores) than any PC I had had up until at least 2008 or so.
The big news now though is that this phone will turn itself into a PC just by adding a Bluetooth keyboard and mouse and either a large screen with Miracast or add the small dock and you can use wired keyboard and mouse and up to two additional screens.
I now use this as my presentation device at almost all events and meetings. It is also under Intune management and has access to the VPN, indeed it has app activated VPN as well so any application that requires VPN access automatically connects.
This phenomena is known as Continuum for the phone and is pretty much game changing.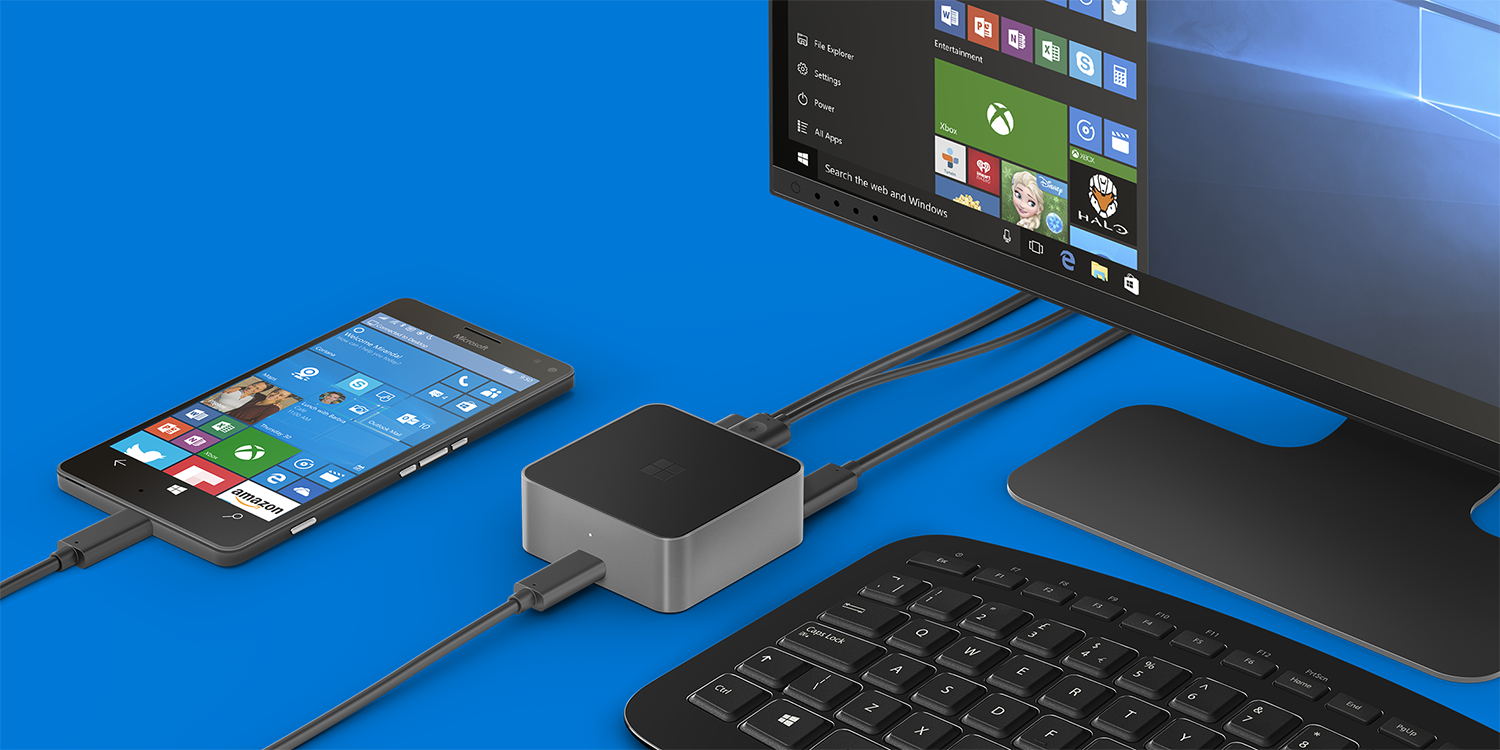 The only downside is that until developers have written more UWP apps, the number of apps that will run in the large screen is small. I am glad to say that all my productivity apps as well as Microsoft Edge do run in a full screen.
So now from playing films (sorry movies) and videos whilst away from home to presenting awesome slides and demonstrations it can do it all. All the other brands, are now playing catch up with turning the phone into a single device to do everything on!
While travelling
I added this as the only really mobile part as in moving while using technology. I often work when I am travelling on a  train or plane. All the above applies although I don't often use the phone for anything other than sharing my 4G EE connection with my Surface Pro 3 to get some reasonable connectivity.
Summary
I appreciate that I haven't covered many of the Windows ecosystem devices in this post. Simply because I don't use them day to day.
I haven't seen a HoloLens up close. I don't have access to a Surface Hub at home or in my working day very often. I do have an Xbox One but rarely use it for work, other than watching great Channel 9 and Microsoft Virtual Academy content. Indeed there is a load of very good content up on the Enterprise Mobility Suite why not take a look at some lab walkthrough videos I recorded showcasing the abilities of the Enterprise Mobility Suite?
Conclusion
I have all I need to work anywhere on any device (even non- Windows devices using Office 365 and the Enterprise Mobility Suite).
Windows 10 fits the bill for everything I need to do.
Now to find that nice man Phil and get hold of the Surface Book I truly deserve.